Using a network of leading medical consultants and specialists we have gathered medical data to develop guided diagnostic and referral pathways. These consultants and specialists understand condition-specific traits so DDx is far more than a series of yes/no filters. Our team have analysed condition specific symptoms, statistical data and patterns to derive the most likely condition based on symptoms, age and gender.
DDx is flexible so that users can explore multiple pathways with their patients to reach the most likely diagnosis, request the appropriate tests, initiate treatment and refer to secondary medicine where appropriate. Users can start the diagnostic process either by typing in the patient's broad symptom or by clicking on the symptomatic area on a visual body map. The body map will aid consultations where there are language or other communication barriers.

Through DDx's guided diagnostic pathways and their inbuilt questions, the system will guide the user in going quickly and efficiently from the patient's broad symptom to associated differentiating symptoms leading towards the most likely working diagnosis. At any time the user can leave a guided pathway to crosscheck alternatives if needed. The system will "red flag" high risk conditions.
If the user is confident that they have identified the most likely condition without using the DDx pathway they can enter it into DDx which will then produce the most appropriate tests, work ups, primary and secondary care strategies. You can find out more about the DDx system by viewing the DDx Introduction Video.
What's so Unique about DDx?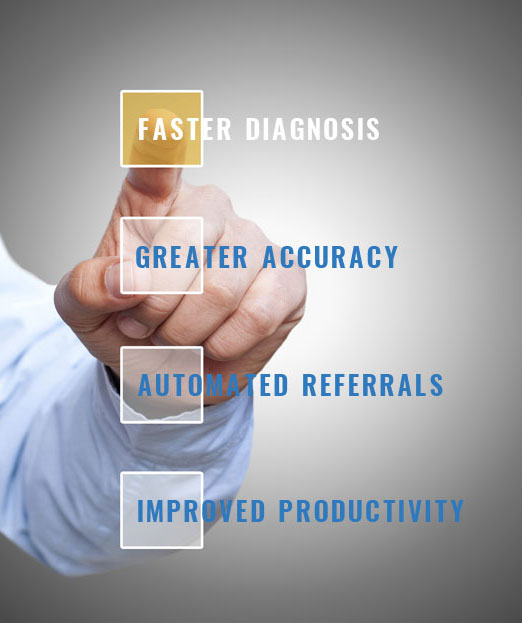 DDx is dynamic, not static: it improves with use. Patient data is at the heart of it, but no-one's data will ever be compromised. It offers the most likely conditions based on the symptoms your patient presents, taking account of age, ethnicity and gender.
DDx is a powerful differential diagnostic and referral platform utilising the knowledge and expertise of a team of prominent consultants in an innovative and accessible way. The software and content have been developed from scratch, with medical information, symptom mapping, diagnosis and referral pathways created by DDx's own team of medical and IT professionals.
DDx gives the most likely diagnosis and automated referral in just a few clicks saving time and money for GPs and delivering improved patient outcomes. The DDx team believe that no other system delivers an automated GP support tool taking the patient from a broad symptom through to most likely condition, tests, work ups, primary and secondary treatment strategies and onwards to referral.